STANSTED "TC" pumps are directly driven by a geared electric motor fitted with a self acting magnetic brake*, providing precise on/off control. The pumps are fitted with the patented STANSTED electromechanical "TC" mechanism which may be used as a coarse pressure control with an accuracy of ±5%; alternatively. When pump is linked to a precision pressure control system the "TC" mechanism may be set to limit the MWP as an ultimate automatic overload protection.
Designed to eliminate dependence on inefficient compressed air systems, these high pressure electrically operated pumps may be used in a wide range of industrial pressurisation applications, i.e. Pressure testing, bolt tensioning, oil injection, isostatic pressing, etc. The high efficiency and reliability of the electrical transmission ensures low running costs; energy efficiency is in the order of ten times that of an equivalent pneumatically operated pump.
Pumps are available for all standard 1ph & 3ph electrical supplies worldwide**. Stansted Fluid Power Ltd. pumps incorporate brake motor, reduction gearbox and pump head as an integral unit. Complete power packs including gauge and pressure release valve are available as standard units.
TC10 range (0.55 kW)

TC5 range (0.55 kW)

Quick Contact

* May be omitted in certain applications subject to SFP approval.
** Models also available for hazardous areas including Zone 1 applications.
*** High viscosity fluids can be approved in some applications.
‡ Applies to Basic pump only
‡‡ 00 unless otherwise advised by our Technical Sales Office.
‡‡‡ 05 or 10 unless otherwise advised by our Technical Sales Office.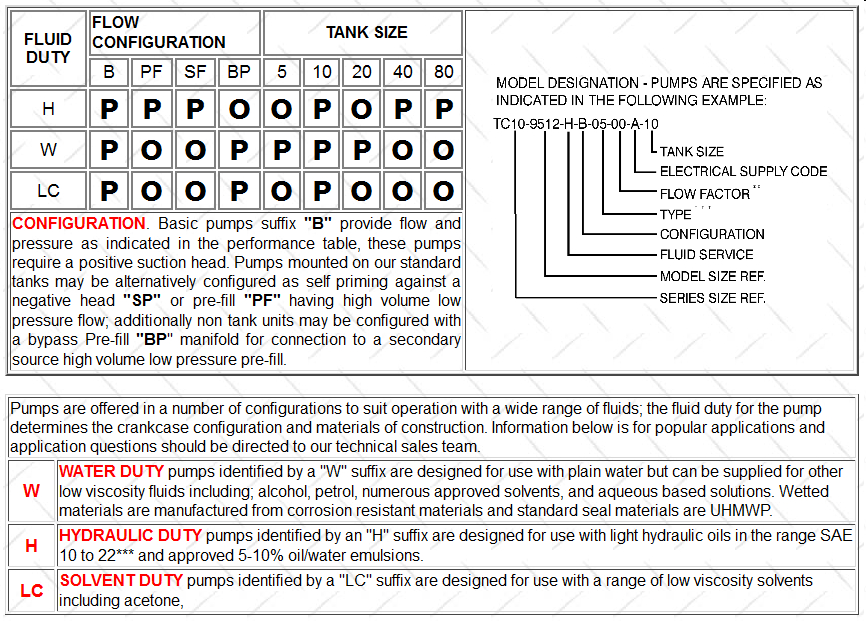 Dimensional and weight information

See also our range of:
High Pressure Fittings & Tubings

Contact us to discuss your High Pressure Liquid Pump requirements